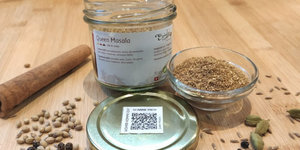 Selected Spicelish spice mixes now available with Blockchain-generated QR Code
Want to learn where your Spicelish spice mix came from?
Now it's as easy as A-B-C to connect to the farmer who grew that spice for you. Just scan the QR code on your spice mix, and you can learn about the journey of the spice mix from the farm to your table.
This innovative traceability system is based on a distributed ledger technology (commonly called blockchain), bringing absolute trust to the product source information.
Spicelish is probably the first spice mix company in the world using such an innovative traceability system. You may also like to read the case study showcased on www.startup.ch. 
---